Zinc Roofing, Cooper, ALUMINIUM Roof
Zinc roof for a defined look
If you want to make a statement, put your own, personal stamp on a building,zinc is a perfect material to choose. So, if you want to achieve well-defined lines – for both subtle curves and crisp corners, go for it. It's become one of the architect's "go-to" materials as it is flexible enough to make even the most daring designs a reality. It works brilliantly even at 90 degrees pitches so it's brilliant for unusually-shaped surfaces. If you are not sure whether this is the most appropriate material to use for what you have in mind – get in touch and we'll advise on the suitable option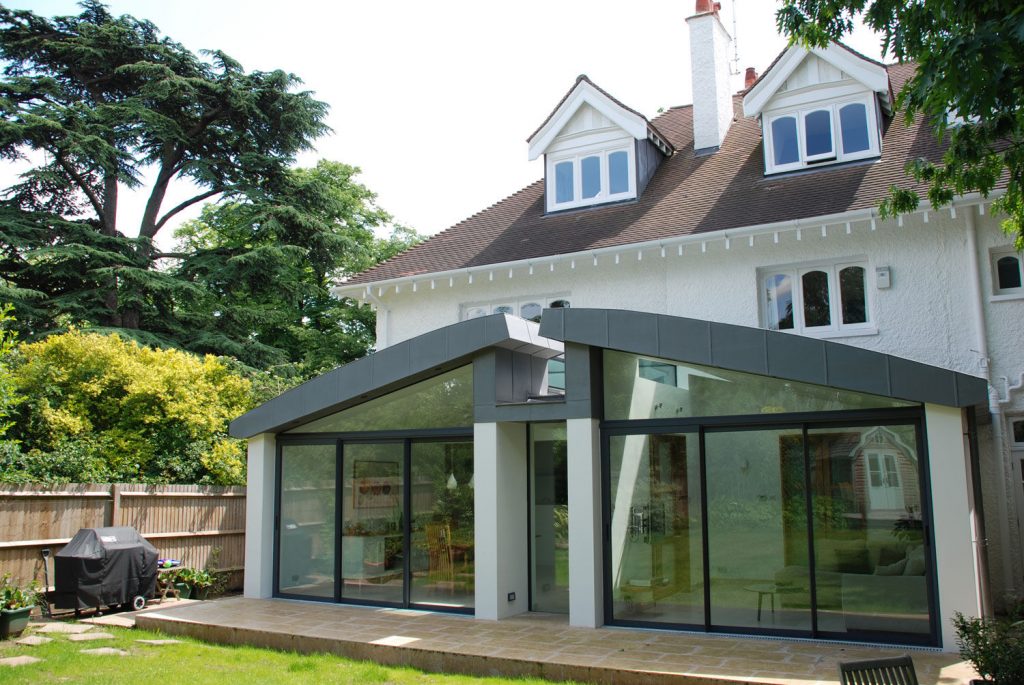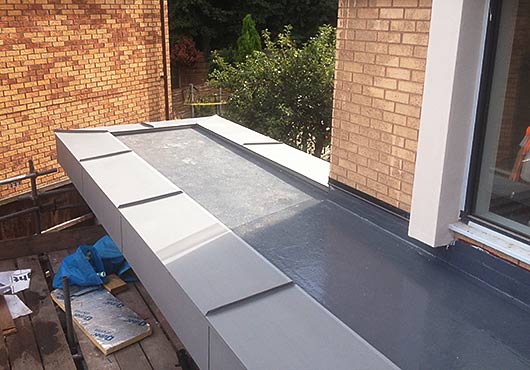 Zinc for eye catching finishes
Zinc roofing is available in a selection of colours and finishes, from matte, through smooth to textured. What is more, you can now achieve the classic patina look from day one! We used to have to wait for this effect to occur naturally, but the designers have taken clients' wishes into account and created a range of materials to suit the demand.
Zinc for cladding and accessories
Zinc looks great not only on top of the building – it performs brilliantly enveloping the walls and it can be formed into down pipes; it can be sculptured into unique ornaments to add to the building, emphasizing its unique character and best features.
Zinc is very durable
Being resistant to corrosion and ultra violet light improve zinc's longevity – it can last for up to a century. In addition, it is fully recyclable, which makes it environmentally friendly.
So, to sum up:
Flexible, great for unusual shapes
Great material for roofs, cladding and accessories
Durable (can last up to 100 years)
Recyclable
Wide range of colours and finishes available
If you are considering putting zinc roofing on your building, get in touch. We'll discuss your requirements and talk about available choices. for a cost effective solution that lasts! We can advise on your project, supply and install the chosen option.
Zinc wall cladding
We would recommend zinc for wall cladding, if you care about after:
durability
flexibility
green credentials
value for money
great effect.
Zinc can be shaped into panels that create a smart interlocking systems. Each panel is ready made and delivered to you ready to be installed. There are many options available, usually fixed to the frame of the building by concealed mechanical fixings. So they are ideal for designs requiring a crisp, clean finish. However, those systems are usually best for large area level, vertical walls.
Having said that, zinc can be formed to fit pitches of up to 90 degrees; it is a relatively thin and lightweight material (0.7mm on average, depending on client's requirements) and can be adapted to cover even unusual shapes and challenging angles. 
Feel free to call us on advice on how to choose the right system for your development!
The benefits of zinc wall cladding
It is quite a comfortable material to work with – it can be embossed, bent, even perforated or extra strong and textured in order to support your design. Due to its characteristics, it is often used indoors, as it integrates well with Galvanized Steel, Aluminium, Stainless Steel even lead and pine, spruce or poplar and pv panels.
Exposed to the elements it will acquire a light grey patina, which usually appears after 6 months, subject to conditions. This is a welcome phenomenon as it is a natural form of protection and reduces the corrosion rate. If you are using zinc indoors, you can easily restore its bright finish cleaning the surface with a mild detergent or vinegar solution. This is probably one of the reasons behind growing popularity of zinc as an alternative material for kitchen splashbacks, worktops and even cabinets.
Zinc cladding have recently gained on popularity and is nowadays often seen in modern restaurants, studio apartments and penthouses as it adds contemporary, even industrial twist to the project, especially when featured as part of the interior design.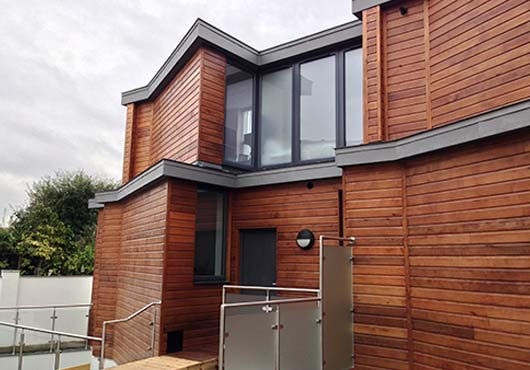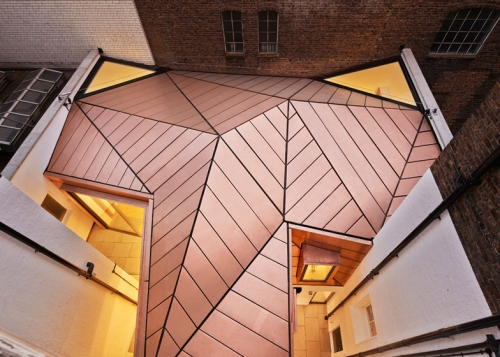 Copper is durable
It offers high resistance to the elements with the benefits of low maintenance, as it needs no painting or extra finishing, or even cleaning. So think about copper if your project crates areas that are going to be hard to access after completion. In addition, this material is unlikely to be affected by the underside corrosion, which is the most popular cause of roofing failures.
Copper is available in a variety of colours
There are a number of colours, known as russet, chocolate, plum, mahogany, and ebony. Yet, in time it will gain a lovely, sought-after, green patina finish, which offers additional protections. It is a natural process, but it takes patience for the effect to reach its full strength. If you are after that type of finish now, talk to us about pre-patinated finishes, contact us on 07415519902 and we'll be able to advise on the best solution.
Copper is extremely flexible
Due to its plasticity it's an ideal material to cover irregular and unusual structures – including domes. New techniques of installation aid quick and secure application of copper over even asymmetrical surfaces.
Copper is lighter than roof tiles
When installed on the roof, it weighs approximately a quarter of what a similar surface covered with roof tiles would. So it is ideal to cover large spaces, especially ones designed to incorporate dynamic lines, curves and sharp angles.
Copper can be used outdoors and indoors
Modern architecture and interior design promote copper as an ideal material for handrails, bathroom fixtures and counter tops; this trend ties exterior elements with accessories in your home, creating a unified and defined look. What is more, copper's antimicrobial properties has been proven not so long ago, which leads to it's growing popularity as a material of choice.
To sum up:
Longevity and low maintenance
Variety of colours and finishes (including a pre-patinated finish giving you that classic look from day 1)
Flexibility, it covers even complex surfaces
Lightweight, suitable for large areas
Let's talk about your project!
Aluminium offers quality that lasts
Aluminium roofing – this type of roof can be covered with a special protection improving its resistance against fading and significantly improving its durability. It does not burn or twist and is very resistant to corrosion, which is something to think about if your home is by the sea! In addition, some manufacturers offer materials with a Class 4 hail-resistance rating – these are guaranteed to withstand 120-mph winds.
Aluminium roofing is energy-efficient
It is said metal roofs absorb 34% less heat than asphalt shingles, which helps save money on air-conditioning bills. In addition, it's fully recyclable (can be resmelted and reproduced while retaining its qualities) and this makes it quite environmentally friendly. Not to mention, it is lightweight, which makes it quick to work with and significantly reduces installation time – as well as cost. Still, it has a very high strength-to-weight ratio, so it is considered a premium material.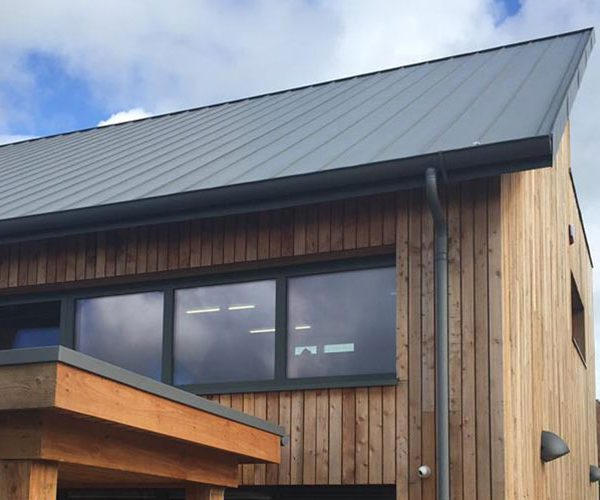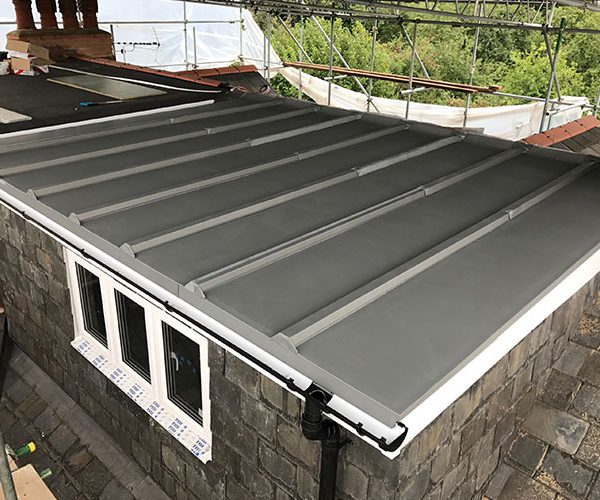 Aluminium can be moulded to fit your design
If you are after this modern material, but would like to achieve a more traditional look, aluminium panels can be shaped to imitate shingles, tiles and slate. In addition, it can be covered with a variety of colours and the palette is constantly growing – some finishes even are even created to resemble wood!
So, contact us on 07415519902 to discuss the design of aluminium roofing you have in mind.
Aluminium can be really quiet
Noise was one of the main concerns of our clients, when we discussed aluminium roofs as one of the options for their project. Luckily, this is an issue of the past as new systems offer solutions absorbing sounds of wind and raindrops. With this modern system, you will no longer be able to hear the weather.
Let's talk about your project!